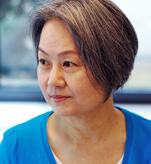 I do not give simple answers—it is not like giving a pill for a headache. Instead, I investigate how we can use our physical body, mind, emotions and soul to align again. People can learn that: to become a facilitator for themselves, a healer for themselves. Then you facilitate your own health. I want to empower people to become a conductor for their own health.
What I have learned so far I integrate in my individual and group work. In my work I combine physiology, neuro-physiology and developmental psychology; that is the theoretical framework behind my work. The techniques I use include amongst others breathwork, voicework, movement and Seitai (Japanese subtle chiropractic).
In individual work I do personal counseling and trauma healing work. My group work includes workshops family constellations and communication workshops.