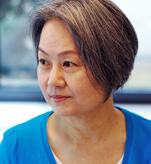 People have the ability to become healthy. That is my fundamental point of departure. So, when we don't feel well the question is: how do we enhance that ability?
In classical therapy the approach is verbal only. I approach the body and the mind together. It accelerates the healing proces, coming back in to well-being, balancing. For example, when someone is depressed, this approach is much more effective.
I always tell my clients: we have four bodies, a physical body, an emotional body, a mind body and a soul body. These bodies do not always line up. For example, sometimes when we have a physical problem the physical body cannot easily come back to the harmony and order of the four bodies, even though people do have the ability to come back into this harmony. When you have difficulty to align yourself, then, a professional facilitator can help you to become balanced again.
That I see as my role and as the purpose of my work.